PURCHASE 3 INDICATOR FROM OUR WEBSITE 500$ BTC ONLY
PURCHASE 5 INDICATOR FROM OUR WEBSITE 800$ BTC ONLY
Hello dear Traders,
This is our best Forex Trading Indicator.
100% Non-repaint Indicator and accuracy 95-98%+
This is the world's best Indicator for Scalping.
Its name "100% Non-Repaint Indicator V5.0"
This indicator is very easy to use for beginners And fully automatic.
It Will Never Expire And There Are NO "Monthly Fees"
Or NO Any Other Recurring Charges For Use
File Type And Requirements:-
This Is A Digital Item! (Download Links–Zip File)
You Will Need: MT4 Terminal
This Files You'll Get Is ZIP Archive.
Indicator Installation Service is Free:- If you don't know how to install the indicator. Contact Us, We will install the mt4 Indicator on your Pc/Laptop with TeamViewer software and If any person wants a live chart screenshot of any indicator, any time frames and any Chart then he can contact us anytime.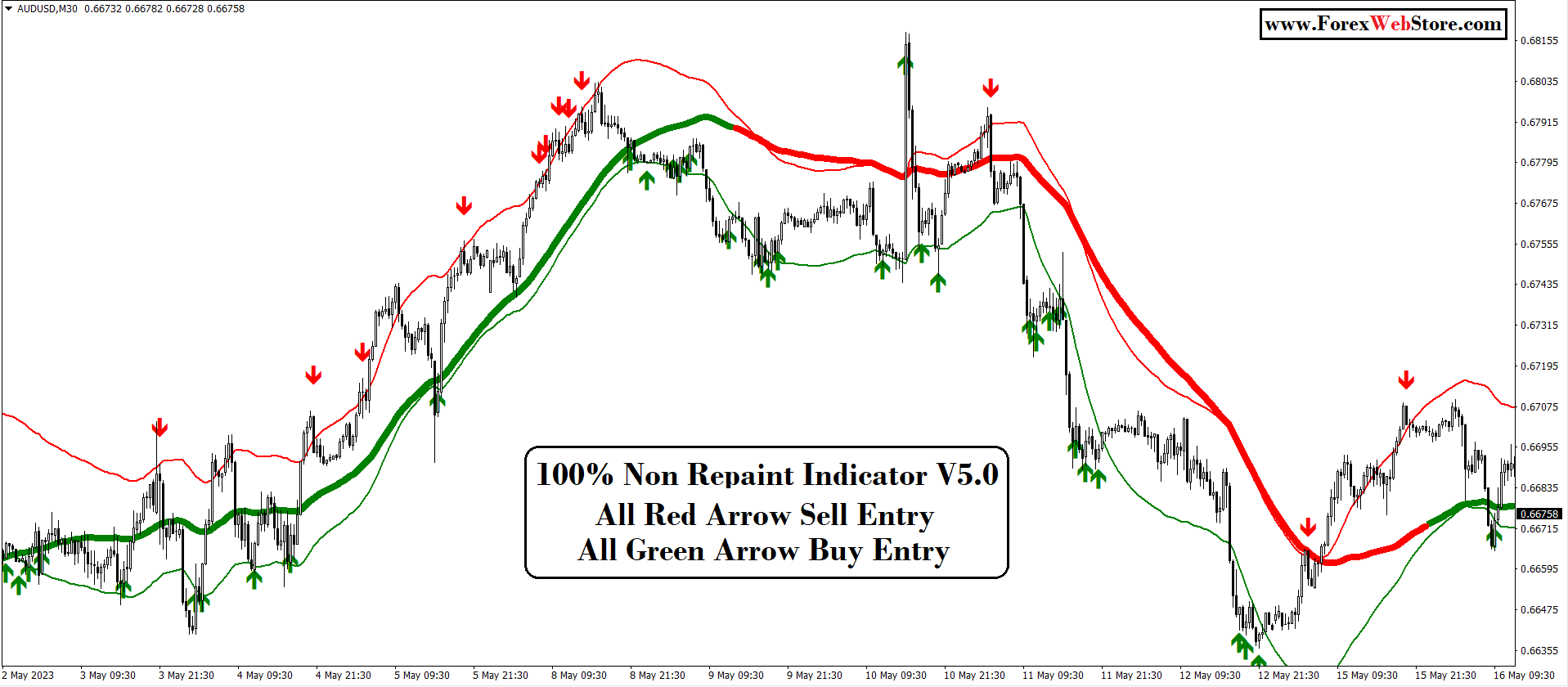 HOW TO USE:-
FOR SELL ENTRY:-
1. First made Red 100% Non-Repaint Arrow on the Top. After take Instant sell entry.
2. When Red arrow made then you can take TP/SL( 1:2 to 1:3 Ratio)
3. If you have candlestick knowledge you can make a lot of money with this indicator(100% Non Repaint Indicator V5.0). When made indicator Red Dot( According to Indicator rules) after confirmation made bearish power candlestick like :- The Shooting star, Bearish Engulfing crack, Bearish Engulfing sandwich, Evening Star, Tweezer Top, Dark Cloud Cover, Shrinking candles, Hanging man Etc. Bearish Candlestick confirmation made after take Instant Sell entry.
FOR BUY ENTRY:-
1. First made Green 100% Non-Repaint Arrow on the Bottom. After take Instant buy entry.
2. When Green arrow made then you can take TP/SL( 1:2 to 1:3 Ratio)
3. If you have candlestick knowledge you can make a lot of money with this indicator(100% Non Repaint Indicator V5.0). When made indicator Green Dot(According to Indicator rules) after confirmation made bullish power candlestick like :- The Hammer, Bullish Engulfing Crack, Bearish Engulfing Sandwich, Morning Star, Tweezer Bottom, Piercing Line Etc. Bullish Candlestick confirmation made after take Instant Buy entry.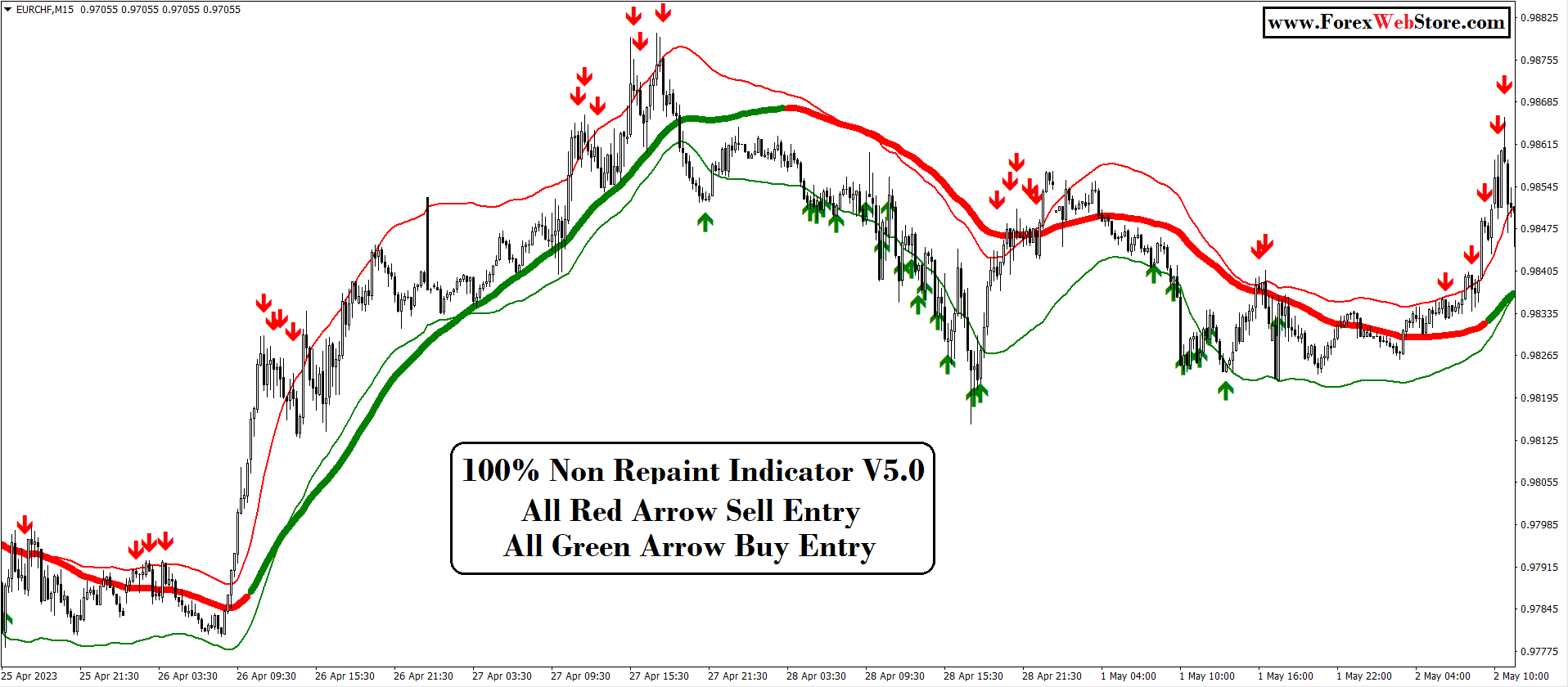 THIS POWERFUL INDICATOR INCLUDES:
You Have Full Control You quickly learn to spot trend direction and trade like a pro yourself.
No Chart Monitoring is Required.
No thinking, analysis or market study is required.
No trading experience is necessary.
Installs in minutes and can be used immediately.
You have complete control and make the final decision on all trades.
No minimum trading amount.
Works on ANY Currency Pair.
Bulls or Bear Markets, BOTH can Make You Money – you don't have to care!
How to install indicator in mt4?
To install an indicator in MetaTrader 4 (MT4), follow these steps:
1. Locate the Indicator File: Obtain the indicator file (usually in .ex4 or .mq4 format) that you want to install. You can find indicators from various sources, including online marketplaces, trading forums, or by creating your own.
2. Open the MT4 Platform: Launch the MT4 trading platform on your computer. If you don't have MT4 installed, you can download it from your broker's website or the MetaQuotes website.
3. Access the Navigator Window: The Navigator window is typically located on the left-hand side of the MT4 platform. If it's not visible, go to "View" in the main menu and select "Navigator" or use the keyboard shortcut Ctrl+N.
4. Locate the Indicators Folder: In the Navigator window, expand the "Indicators" section by clicking on the small arrow or plus sign next to it. This will reveal additional options.
5. Open the Indicators Folder: Right-click on the "Indicators" folder and select "Open Folder" or "Open Directory." This action will open the folder where MT4 stores indicator files.
6. Copy or Move the Indicator File: In the folder that opens, locate the indicator file you obtained in step 1. Copy or move the file into this folder.
7. Refresh the Navigator Window: After copying or moving the indicator file, right-click on the "Indicators" folder in the Navigator window and select "Refresh" or press F5 on your keyboard. This will update the Navigator window to include the newly added indicator.
8. Apply the Indicator to a Chart: Locate the indicator in the Navigator window under the "Indicators" section. To apply the indicator to a chart, either drag and drop it onto the desired chart or double-click on the indicator. A settings window may appear where you can customize the indicator's parameters. Modify the settings as needed and click "OK" to apply the indicator.
9. Verify the Indicator on the Chart: The indicator should now appear on the selected chart, displaying its signals or visual elements based on the applied settings.
10. Customize Indicator Appearance (optional): To modify the appearance of the indicator, right-click on the chart, select "Indicators List," and choose the indicator you want to customize. Adjust the appearance settings, such as colors or line styles, in the indicator's properties window.
That's it! You have successfully installed and applied an indicator in MT4. Remember to test the indicator thoroughly on historical data and practice using it on a demo account before applying it to live trading.
How to get profit by forex indicator?
Using forex indicators to generate profits requires a well-rounded trading approach and the integration of indicators into a comprehensive strategy. Here are some steps to help you potentially profit using forex indicators:
1. Understand Indicator Signals: Gain a thorough understanding of the indicator you're using. Learn how it generates signals, what those signals mean, and how they align with your trading objectives. This understanding will help you interpret the signals correctly and make informed trading decisions.
2. Combine with Other Analysis Techniques: Use indicators in conjunction with other forms of analysis, such as fundamental analysis, price action analysis, or support and resistance levels. By combining indicators with other techniques, you can validate signals and increase the probability of profitable trades.
3. Backtest and Demo Trade: Before using an indicator in live trading, backtest it on historical price data or demo trade with it in real-time market conditions. This process allows you to evaluate the indicator's performance, understand its strengths and weaknesses, and gain confidence in its signals. It also helps you identify any necessary adjustments or optimizations.
4. Define Clear Entry and Exit Criteria: Establish clear rules for entering and exiting trades based on indicator signals. This includes identifying specific signal conditions or thresholds that trigger trade entries and setting profit targets and stop-loss levels. Clearly defined criteria help you maintain discipline and avoid impulsive or emotionally driven trading decisions.
5. Risk Management: Implement proper risk management techniques to protect your capital and minimize losses. Determine the appropriate position size for each trade based on your risk tolerance and use stop-loss orders to limit potential losses. Risk management is crucial for long-term profitability.
6. Monitor Market Conditions: Keep an eye on market conditions and adapt your trading strategy accordingly. Market dynamics can change, and indicators may provide less reliable signals during certain periods. Stay informed about economic news, market sentiment, and other factors that can influence currency movements.
7. Continuously Learn and Adapt: Forex markets are dynamic, and what works today may not work tomorrow. Stay open to learning and adapt your trading approach as needed. Regularly review and analyze your trading results, identify areas for improvement, and adjust your strategy accordingly.
8. Consider Professional Guidance: If you're new to forex trading or struggling to generate consistent profits, consider seeking guidance from experienced traders or professionals. Mentorship or educational programs can provide valuable insights and help accelerate your learning curve.
Remember, forex trading involves risks, and there are no guarantees of profit. The effective use of forex indicators requires experience, discipline, and a deep understanding of market dynamics. Continuously refine your skills, manage risk effectively, and remain patient and disciplined in your trading approach.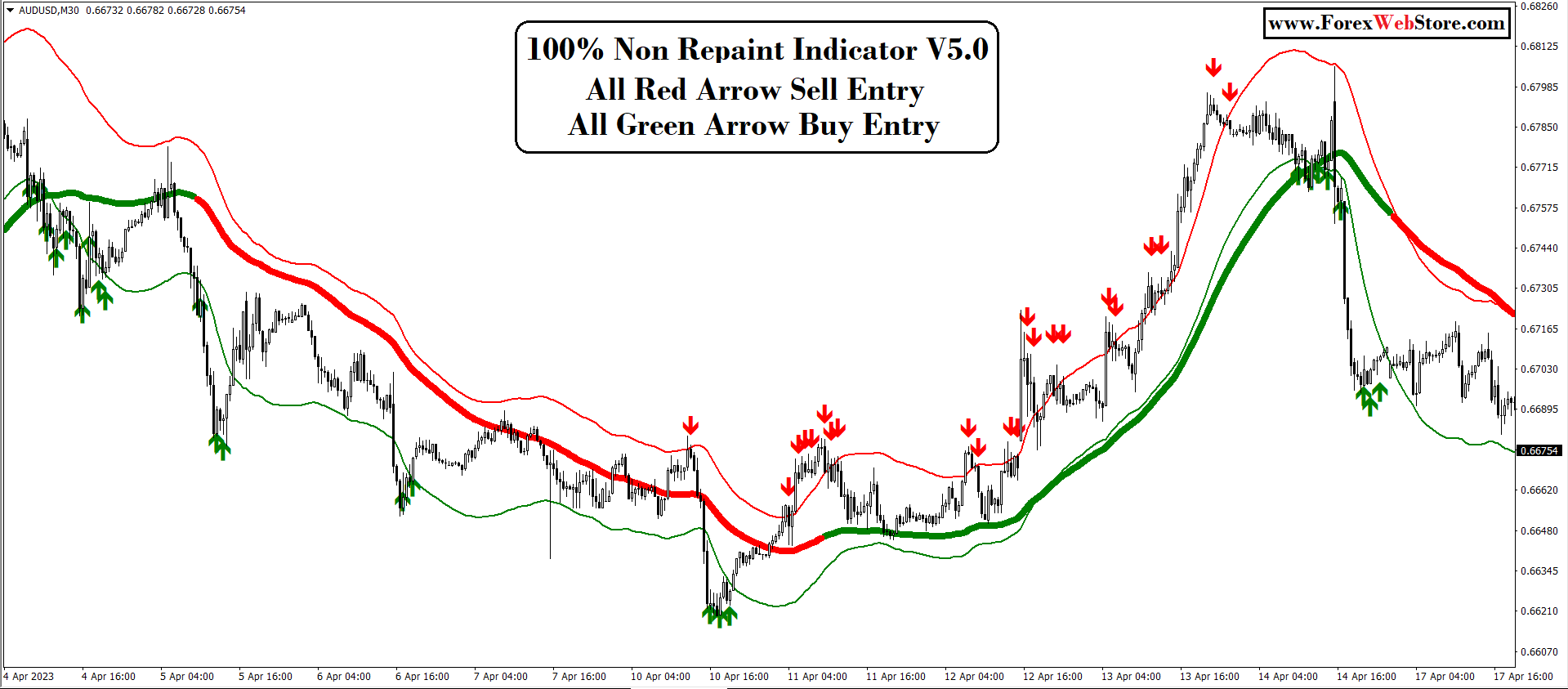 Our Payment Options:👇
1) Bitcoin Wallet:
2) USDT(Tether) Wallet: (Request)
3) TRX(Tron) Wallet: (Request)
4) XRP(Ripple): Tag(Request)
And another crypto wallet: on request
5) Visa/Master Card Via Payment Link: On Request
6) Paypal: On Request
7) Skrill: On Request
8) Neteller: On Request
9) Western Union: On Request
10) This Website(www.ForexWebStore.com). You can purchase directly from the website with Your Credit/Debit Cards and All cryptocurrencies and Instant Download Indicator Files.
Send payment screenshot to: 👇🏿
Telegram: Click Here
Mail Us: Click Here
Payment After we will provide the product within 90 minutes.
If you want any proof of Indicator or have any questions then feel free to message
Telegram: Click Here
Mail Us: Click Here
Thank You ❤️